The LEGO Fire Tech Home Page
This site is NOT an official LEGO web site, really it's not.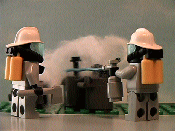 Supplying Fire Apparatus to the LEGO World
(not really, but you can get ideas to create you own)
Apparatus Types
PUMPERS
a wide range of units for any city or town
LADDERS
for cities with tall buildings
AIRPORT
crash/fire/rescue apparatus for airport protection
EQUIPMENT
specialized gear only from LEGO Fire Tech
LEGO Fire Tech's History
LEGO Fire Tech was incorporated in the late 70's. It was in
continous operation until 1984, when the owner retired.
LEGO Fire Tech's equipment and stocks were sold at that time.
The owner missed his business so much that he reorganized and
restarted LEGO Fire Tech in 1990. The company has enjoyed
continued success since then.
Click me to
e-mail me.
All of the pictures on this site were taken using Video Snappy from Play Inc., hooked into a Panasonic AG-455, S-VHS camcorder,
using Video Snappy's highest quality still, live camera mode. They were then cropped, resized, and converted.
This site is NOT sponsored, supported, or condoned in any way by Play Inc., Panasonic, or LEGO.
This site is best viewed with a good sense of humor.