Year Introduced:
2007

Dimensions:
Length - 24 studs to rear of ladder overhang
Height - 9 bricks to top of extended antennas
Width - 10 studs to outside of mirrors
Note: 6 stud wide cab with 7 stud wide body

Pump Specifications:
2000 gpm @ 150 psi
Around the pump foam proportioner
Two 6" intakes on pump panel
Three 2.5" discharges
3" discharge for deck gun
Two 1" discharges for booster reels
Two 1.5" discharge for the attack lines
All discharges capable of foam discharge

Tank Capacity:
1000 gallons
Piped for 1000 gpm flow from tank to pump

Foam System:
50 Gallon Class A Foam Cell
200 CFM compressor for CAFS

Hose:
Two 28" preconnected attack lines
Two 38" booster reels
14" supply line
28" supply line
Two hard suction hoses w/strainer
Remote/Manually operated 2000 gpm deck gun

Lighting:
25 kW PTO Generator
Elevating light tower
Twin elevating water level lights w/traffic arrows

Equipment:
In Cab Storage
Axe, Sledgehammer, and Forcible Entry Tool
Portable Radio
Two SCBA masks
Two SCBA bottles
Two flashlights
Exterior of Apparatus
Shortened two section extension ladder
Pike pole
2.5 gallon water fire extinguisher
20 pound ABC dry chemical fire extinguisher
5 gallons of drinking water in cooler
Two hydrant wrenches
Driver's Side Compartments
First Aid Kit
Portable Radio
Binoculars
Officer's Side Compartments
Small hammer, screwdriver, and open ended wrench
Two shovels
Double male hose adapter
Double female hose adapter
Rear Compartment
Two spare SCBA bottles
Bag of absorbent


Description:
The Coyote Pumper features many firsts never before seen on any other Sixby Fire apparatus. It seats four firefighters in it's enclosed cab and the rear facing firefighters can put on their SCBA while enroute. It also has modified in cab tool storage. The Coyote Pumper also has a 6 wide cab and 7 wide body, our first custom cab fire apparatus to use this feature. It also has dual rear wheels like a real apparatus does. It has a 4 wide pump panel and carries 180" of various size hoses. It also has more warning lights then I've ever put any any apparatus before. There are two warning lights in the bumper, two in the grille, a full size lightbar with front clear takedown lights, amber and red flashers built into the top of the cab on the rear, rear amber and red rotators near the hosebed, and a center red rear flasher and third brake light. There is also an elevating light tower and twin elevating water level lights with built in traffic control arrows. The water level lights work when lowered or raised and when raised can be seen from 360 degrees around the apparatus. The traffic control arrows have three modes, both arrows facing out, both facing left, and both facing right. An interlock prevents the light tower, water level lights, or deck gun from being elevated while the apparatus is in motion.

The Coyote Pumper is mainly designed for rural departments who need a heavy hitting pumper with a Compressed Air Foam System to make the limited amount of available water in rural settings stretch as far as it can. The CAFS can expand the 1000 gallons of water into well over 4000 gallons of expanded Compressed Air Foam. Compressed Air Foam can be flowed through any of the discharges. Since the Coyote Pumper carries 50 gallons of Class A foam, this is enough to treat 5 full water tanks at a 1% foam mixture.

The Coyote Pumper has been in the research and development stages in one form or another since 2006 and we are now proud to offer it to you! This is also the first Sixby Fire apparatus named by my son. He liked the name Coyote and it just sort of stuck.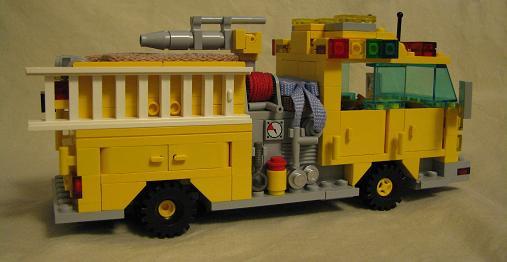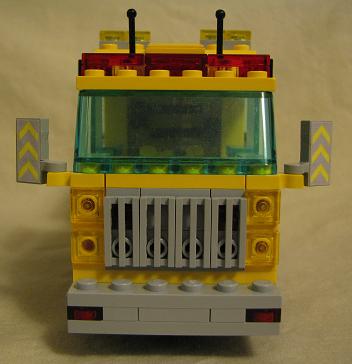 Minifigs can mask up enroute and exit with tools
More pictures below!